At Chasing Tails mobile vets, Sugar Land is one of our favorite communities in Texas. The homes are beautiful, and the families are loving and caring. It's a pet community with many families having a dog or two and perhaps a cat, and some have a house or two as well!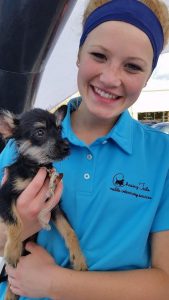 However, many families are also very busy people and welcome us as their Sugar Land mobile vet because we come to you.
Having your vet come to your home saves you the time and trouble of bringing your pet to us. We make an appointment, and we turn up on time with everything that we could possibly need because we have a fully stocked mobile surgery. In effect, we have everything that we have in our main surgery, so whatever your pet is diagnosed with, you can be assured that we have what is required.
Membership Programs for Puppy and Kitten Owners
We also have our membership programs for your new puppy or kitten. This covers all the things that a young animal is going to need from the age of 6/8 weeks up to 14/16 weeks. It includes three house calls at regular intervals, boosters, rabies vaccines, intestinal parasite screening, 3 dewormings, and one-month flea and heartworm prevention. If you have a puppy it will also include distemper and parvo boosters and kennel cough vaccine. For a kitten it is an FVRCP booster and feline leukemia vaccine. All this for one fixed price gives you the confidence and peace of mind that your puppy or kitten is fully protected.
But having us as your Sugar Land mobile vet is not just about peace of mind for you. Far from it. It's about peace of mind for your pet too. If you have ever taken a dog or cat to the vet you will know that they are very often sitting in the waiting room along with other dogs and cats, and the occasional pigeon or rabbit, and most of the animals are shaking because they are in a strange place and they don't know what to expect. Or in some cases they are shaking because they have been before and they didn't really enjoy the experience of being picked up, plonked on a table, and having a stranger fiddling about with them. It is all very stressful for them.
By contrast, when your Sugar Land mobile vet comes to your home, there is no stress for your dog or cat at all. They are in their own home and their own surroundings, and it's just them – not a dozen other animals all under one roof. In fact, it is fair to say that many of our animal patients actually enjoy it when we visit.
So, as you can see there are advantages all round when you use our mobile pet services.