As anyone who keeps a cat will tell you, they are great pets and wonderful companions. Furthermore, as anyone who keeps a cat will tell you, you are not a cat owner. You do not "own" a cat. The cat owns you. You are his or her human. The cat is the boss.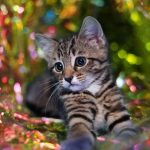 It is quite true. Cats do their "own thing" and as their human you are required to conform to their wishes. If they want to go outside and you don't have a cat flap, they will go to the door and meow, and you are required to jump up and open it for them. If you want to sit down and watch the television, that's fine, but as their human they are quite at liberty to sit on your lap. Cats basically just do whatever they want, and that is one of the reasons that we love them so much. If only we could get away with behaving like that!
All Cats Need To See The Vet Sometimes
However, as with all pets, cats need to see the vet from time to time. This is especially true in hot Texas towns such as Sugar Land, College Station, or Houston. This may be for routine vaccinations and so on, their annual check-up, or they may have become ill and need medication. Now if you keep a dog, it is not a problem because you grab the lead and take the dog to the car. The dog is happy because he thinks he is going walkies in the park or the woods. Sure, he may not be so happy when he realizes that you are pulling up outside the vets.
But if you need a veterinarian for cats whether in College Station, Houston, or Sugar Land, Texas, it is a different matter, because cats don't like to leave home. They don't like being grabbed and put in a basket because they don't like to travel. They want to stay on their own territory.
This is why, when you need a veterinarian for cats, you need us at Chasing Tails. Quite simply, we come to you.
Yes, we bring the veterinary surgery to your home, so your cat has no worries whatsoever. We can deal with all those routine issues such as annual check-ups, vaccinations against rabies, internal parasite screening, de-worming and so on, all in the comfort of your cat's own home.
With our mobile surgery suite, we can carry out a routine spay or neuter, dental cleaning, x-rays, ultrasound inspections, and so on. As your veterinarian for cats, we can do whatever is needed to keep your cat heathy and happy, all without him or her having to leave home.