Finding a veterinarian in College Station, Texas, is fairly straightforward, but finding the best vet for your needs can be something of a different matter entirely. You need a vet with whom you can get on yourself, but you also need a vet with whom your vet will feel comfortable.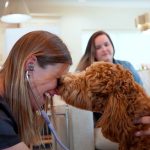 Let's face it, in many cases your pet will feel worried when you grab him and take him or her to the vets, because as you pull up outside the building, he or she will know from previous experience that this is not a fun trip. Certainly, some animals will not mind having an injection or whatever else is needed, but for others the whole experience can be difficult. This is because there are other animals all sitting in the waiting room, some of whom may appear to be aggressive. Of course, that is often because they are scared as well, and just don't want to be there. But this whole "trip to the vet" thing can be distressing for your pet.
This is why when finding a veterinarian in College Station, Texas, you should consider us at Chasing Tails. One of the best things about us? You don't have to bring your pet to the vet because in this case our vet comes to you.
A Mobile Vet Service To Your Door
Yes. We operate a mobile vet service and we come right to your door wherever you may be in College Station. This means that your pet will never experience the worry of pulling up outside the surgery because you don't do it.
In fact, very often, quite the opposite happens. Our clients' dogs and cats are very often happy to see us when we knock on the door, believe it or not. Often the dog will rush up to our vet with tail wagging as if greeting a long-lost friend. Cats purr and brush their tails around our legs. It really is a totally different experience for your pet.
We bring everything that is going to be needed right to your door, so we have all the medications that your pet may need on board with us. We can do all the routine tasks that may be required such as toenail clipping, vaccinations, routine check-ups, and so on. All without your pet ever having to leave the comfort of home, and so in friendly surroundings.
So, when finding a veterinarian in College Station, Texas, just search for "Chasing Tails". We bring all the services that you will need right to your door.