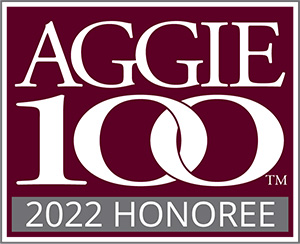 COLLEGE STATION, TX, December 1, 2022 – Chasing Tails Mobile Veterinary Services of Bryan/College Station & Houston, Texas is among the top 100 companies from around the world selected for the 18th annual Aggie 100™ which honors the fastest-growing companies owned by former students of Texas A&M University. Chasing Tails Mobile Veterinary Services was recognized as number 49 with a compound annual growth rate of 53.934%. The Aggie 100 is founded and sponsored by the McFerrin Center for Entrepreneurship at Texas A&M University.
We're here to serve, uplift, and provide a helping hand with our training, knowledge, and a servant's heart.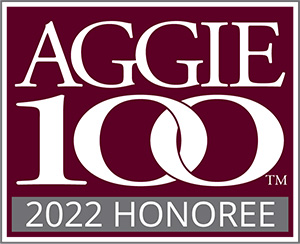 The 100 Aggie-owned companies with the highest compound annual revenue growth from 2019 to 2021 were recognized at a formal celebration at the Hall of Champions at Texas A&M University's Kyle Field on Nov. 4, 2022. The honorees were joined in celebration by family, friends, employees, faculty, administrators, current students and fellow entrepreneurs.
"Now in its 18th year, the Aggie 100™ continues to re-set the standard for recognizing and celebrating the best of our Aggie entrepreneurs across the globe. These 100 companies and their Aggie founders and leaders have proven their determination for success, and we're excited to welcome them to the Aggie 100 family. This year saw our second-highest number of applications ever, indicating just how competitive these rankings have become. This 18th class of the Aggie 100 represents the cream that has truly risen to the top, and we're honored to be a part of their company's story and success," said Blake Petty '98, executive director of the McFerrin Center for Entrepreneurship.
A complete list of Aggie 100 companies, including past years, can be viewed at aggie100.com.
About Chasing Tails Mobile Veterinary Services

Serving Bryan / College Station & Houston Texas
979-217-1694; (281) 815-2387
https://chasingtailsvet.com/
Media contact: Brittany Marvel, Owner DVM, 979-217-1694, info@chasingtailsvet.com