Houston, Texas – June 30, 2021. Chasing Tails, rated as one of the best veterinarians in Houston is proud to announce three new website pages for at-home pet euthanasia services in Houston. Elderly or sick dogs and cats can remain comfortable with a loving pet owner as they take their last breath.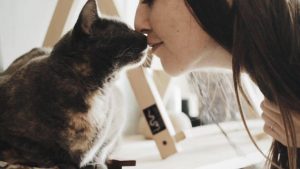 "No one wants to discuss how to handle the moment when it's time to say goodbye to a beloved dog or cat. It's heartbreaking, but preparing for that time could help ease the pain just a little for both the pet and owner," explained Dr. Brittany Marvel, DVM. "When it's time, our team is here to help provide a comfortable, loving goodbye to the rainbow bridge in the familiar surroundings of a pet's home."
Pet owners in Houston, Sugar Land, and College Station can review the new page for pet euthanasia. The professional mobile vet team serves these three Texas cities with best-in-class pet medical care, including yearly checkups, spay, neuter, and euthanasia. Dog owners ready to euthanize a pet at home can review the new topic-specific page at https://chasingtailsvet.com/dog-euthanasia/. Residents searching for details about cat euthanasia at home in Houston, Sugar Land, and/or College Station can check the page at https://chasingtailsvet.com/cat-euthanasia/. Residents are welcome to reach out to the company to hear about the careful, loving process for helping a dog or cat then the time has come.
MOBILE VET TEAM HELPS DOG AND CAT OWNERS DISCUSS PET EUTHANASIA AT HOME
Here is the background on this release. The topic of pet euthanasia can be a highly emotional one for loving pet owners. Choosing when it is the 'right time' to help euthanize a cherished cat or dog may cause anxiety and confusion in an owner. For these reasons, Chasing Tails has announced three new pages about pet euthanasia at home in Houston, Sugar Land, and College Station.
ABOUT CHASING TAILS MOBILE VETERINARY SERVICE
Chasing Tails is a top-rated mobile vet service operating in College Station, Houston, and Sugar Land Texas. Let the "vet near me" become the veterinarian who makes house calls. The company's vets make "house calls" by coming to the client's house to service a dog or cat in the comfort and security of their own home. The mobile vet clinic now services College Station, Bryan, and Sugar Land, Texas. Northeast Sugar Land neighborhoods include Sugar Land Heights and River Oaks. The company aims to be the best vet in Sugar Land and College Station, one pet at a time, one dog at a time, one cat at a time, one house call at a time. The company also offers safe and kind pet euthanasia services. Contact Chasing Tails today to explore how a mobile veterinarian service might be the best veterinarian for a dog or cat.